After 20 years of research and development with the veterans of penis enlargement, MOS is proud to announce the MityVac HydroVac Penis Pump kit.
THE PENIS PUMP PROS USE

Whether you are just enlarging the penis or want to do full package penis pumping with your penis and testicles, the MityVac HydroVac offers a wide range of diameters to accommodate your pumping goals by air vacuum pumping or hydro water pumping.
For many decades, penis pumping has been the most effective way to enlarge the girth of your penis and elongate it along with improving erection quality. Short term penis pumping achieves immediate penis enlargement that lasts for hours. Many porn actors pump before shooting a scene to perform with their maximum penis size. Long term use of penis pumping results in permanent penis gains.
Designed so you can begin with a starter pump set, and once you out-grow your starter system, upgrade to a new larger cylinder to save money and keep building penis size. Our MityVacs come with two 8" long Silisleev2 silicone penis sleeves and 8" long SiliCap2 to eliminate fluid retention. We also supply a hydro water trap for wet pumping, pelvic silicone comfort pad (Not included with 2.5", 2.75" and 3" pumps), pumping coconut oil, and a discrete carry case.
We custom handcraft each MityVac in house, please allow one-two business days for processing.


Note: The promo Titan Gel in pictures and video are no longer available with kit.
MityVac flanged pump cylinder of choice

Hydro water trap for hydro pumping with water

Quick connect vacuum tubes and valves

SiliRing cock rings to keep penis expanded

Discrete hardshell carry case
Nine hydro vacuum cylinder diameter sizes to choose, ranging from 1.5" (38mm) up to 3.5 (89mm)"
Internal lengths available in 9.25" (254mm) and 12" (305mm) long with 4mm thick walls.

Full flanged lab grade acrylic vacuum cylinders for comfort.

Precise measurements in inches and millimeters to track penis gains.

High quality quick connect fittings on the cylinder and vac-lines maintain pressure and quickly change from hydro to air pumping without the vacuum pump needing to be attached to the vacuum cylinder.
Hydro water trap for hydro pumping with warm water.
High quality vacuum pump and precise vacuum gauge. Vacuum range: 0-28.9 Hg, with a vacuum release trigger for safety.
Two 8" SiliSleev2 penis compression sleeves to reduce fluid retention and achieve uniform penis gains by eliminating the unwanted baseball bat shape and donut effect deformities caused to the penis.
One 8" Silicap2 glans cap to prevent swelling of the glans
Four constriction rings to keep the penis expanded during and after pumping
Soft TPR silicone removable pelvic cylinder seal for extra seal and comfort (Not included with 2.5", 2.75" and 3" pumps)
Discrete Carry Case
The MityVac is available in nine different diameter cylinders with the option of a 9.25" (23.5cm) or 12" (30cm) inside usable length.

The MityVac inside diameter sizes available are as follows
1.5" (3.8cm)
1.75″ (4.5cm)
2″ (5cm)
2.25" (5.7cm)
2.5" (6.35cm)
2.75" (7cm)
3" (7.6cm)

3.25" (8.3cm)
3.5" (8.9cm)
How to measure your penis SHAFT for pump cylinder sizing
Use a piece of string or a flexible tailors measuring tape. Get your penis erect.Wrap the string or measuring tape around the thickest part of your ERECT shaft or base (whatever is thickest).For most people, the thickest part of the penis is at the base of the penis by the pelvic bone. If your upper shaft is thicker than your base, measure the thickest part of your shaft.


If you use a string, mark where the string overlaps itself with a pen so that you can see the pen mark on both ends of the string.Lay the string on a flat surface and measure the distance between the two pen marks with a ruler.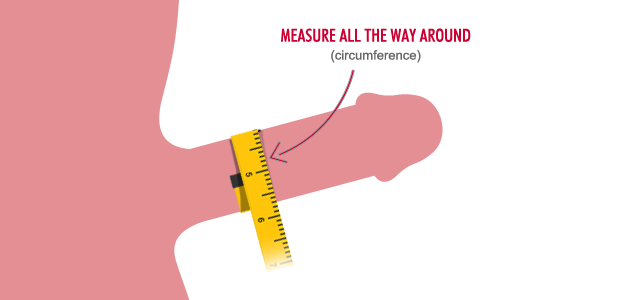 What size pump cylinder to order?
Ordering a pump cylinder that is much wider than the girth of your penis is not beneficial and will actually cause you to prolong the growth process and grow a deformed penis over time. Stick with the recommendations we provide, this is all data collected from pump users over the past 20 years.
TO FOCUS ON PENIS LENGTH AND GIRTH
Order a MityVac pump cylinder that is .25" larger in diameter than the thickest part of your erect penis girth. This will allow your penis to expand in girth and length at the same time.


If your erect penis shaft base girth or cock and balls circumference measurement is:
Under 3.5", order a 1.5" diameter pump cylinder.
4" (9cm) to 4.75" (12cm) order a 1.75″ (4.5cm) diameter pump cylinder
5″ (12cm) to 5.75 (15cm)" order a 2″ (5cm) diameter pump cylinder
6″ (15cm) to 6.75 (18cm)" order a 2.25" (5.7cm) diameter pump cylinder
7″ (18cm) to 7.5" (20cm) order a 2.5" (6.35cm) diameter pump cylinder
7.75" (20cm) to 8.25" (21cm) order a 2.75" (7cm) diameter pump cylinder
8.5" (22cm) order a 3" (7.6cm) diameter pump cylinder


The 2.75" (7cm), 3" (7.6cm), 3.25" (8.2cm) and 3.5" (8.9cm) diameter pump cylinders are commonly used for full package pumping (cock and balls). To get this measurement, measure the circumference around your erect cock and balls with a string or flexible tailors measuring tape.

TO FOCUS ON PENIS LENGTH ONLY
The rule of thumb is to order a MityVac pump cylinder in the diameter that is closest to the thickest part of your erect penis girth. The idea is to pack your erect penis in the cylinder and pump so your penis only extends in length since it can't expand much in girth.

If your measurement is not listed above – Please Contact Us at sales@mattersofsize.com
The MityVac ships for free in a plain box with no indication inside or outside of the packaging describing what it is or what it is used for. The MityVac has no branding on it as well. The shipping label ship from address is PPC Corp.
Your Credit Card or Pay-Pal account will show that you made a purchase of a "LM-1001" from "PPC".
USA DOMESTIC SHIPPING: The typical free shipping time in the US is 2-3 days with USPS once your order leaves our shop.

INTERNATIONAL DHL & UPS SHIPPING: The typical shipping time for DHL & UPS shipping internationally is 3 days once your order leaves our shop and can be tracked all the way to your door.

INTERNATIONAL USPS SHIPPING: If you select the cheapest USPS shipping option, the typical shipping time for USPS shipping internationally is 15 days once your order leaves our shop. Also please note with USPS, once your order leaves the USA, the tracking information can not be traced.
If you are unsatisfied with your purchase, you have 90 days to return your MityVac for a full refund. All items must be unused and included in the same condition when received.

If there is a manufacture defect, we will promptly replace your part or product at our expense, shipping included.
SIMILAR PRODUCTS CUSTOMERS PURCHASED