The StealthStretcher is a full blown vacuum penis traction stretcher, all day stealth penis stretcher and weight hanger for stretching penis tissue and ligaments to build new collagen for penis growth. The StealthStretcher features three vacuum bulb sizes to accommodate all penis sizes and penis growth without having to buy upgrades or worrying about purchasing the wrong size.
The StealthStretcher boasts the highest tension traction system ever with variable tension up to 17lbs (7700 grams)! Most other traction stretchers max out at 4200 grams.
The StealthStretcher prevents turtling of the penis to keep your penis stretched as it heals in the the extended state. Featuring two different size all day penis stretcher belts (ADS), a penis traction extender with multiple attachments and penis weight hanger. We include a set of starter weights and attachment arbor for beginner hanging sessions. The included SiliScale helps track tension on the penis so you can monitor your sessions and track your progress.
We include multiple silicone sleeves with different diameters and strengths to meet everyones needs.
Promotes penis cellular length and girth growth

Extremely comfortable for long hours of use

Painless natural penis gains

Eight penis stretching positions

Wear as an Active or Passive all day stretcher

Wear outside under clothes

Use as a weight hanger at home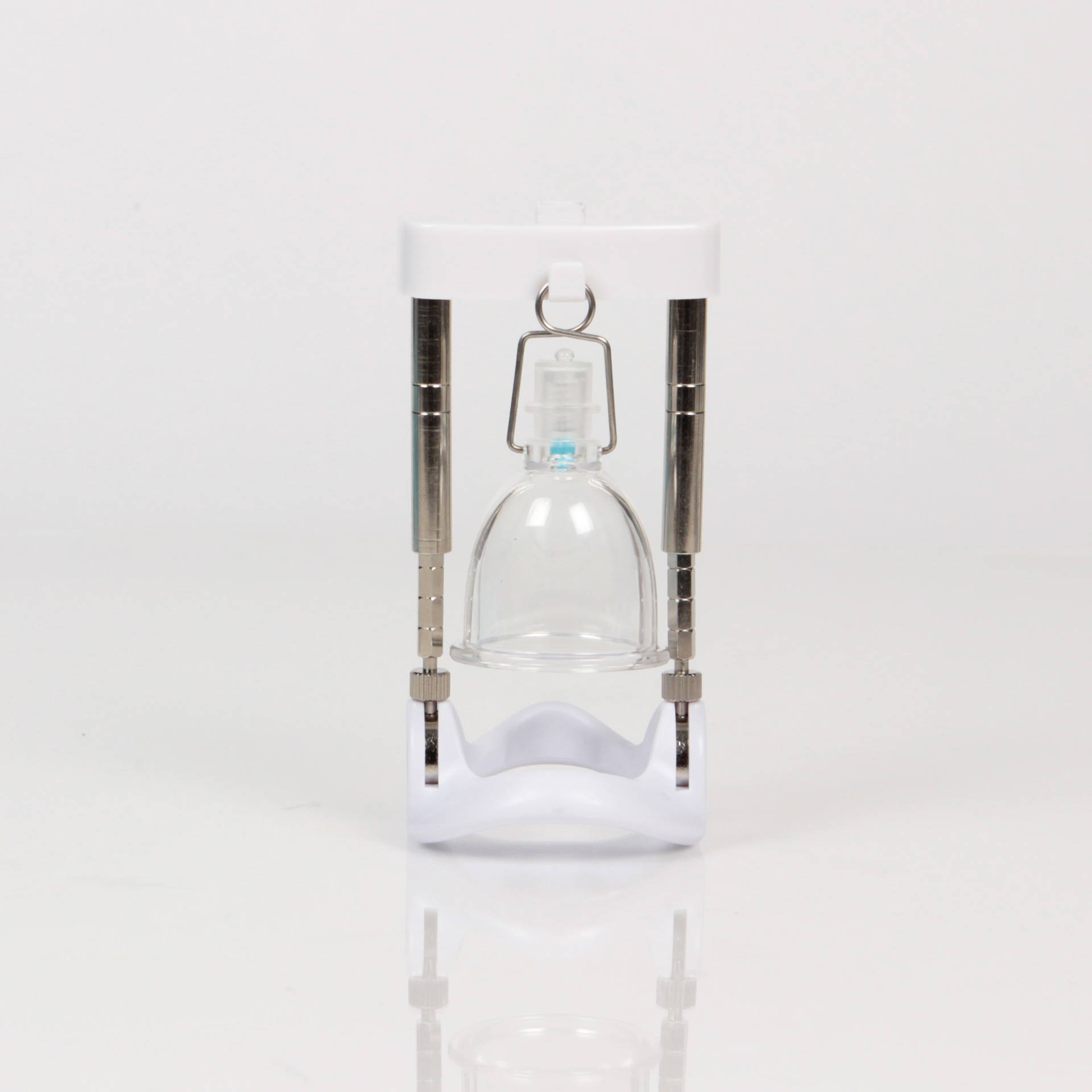 The StealthStretcher accommodates penis sizes starting at two inches in length using the vacuum attachment and three inches in length using the hard retention attachments.
We include 14" in multiple size extension rods to increase penis length with minimum effort.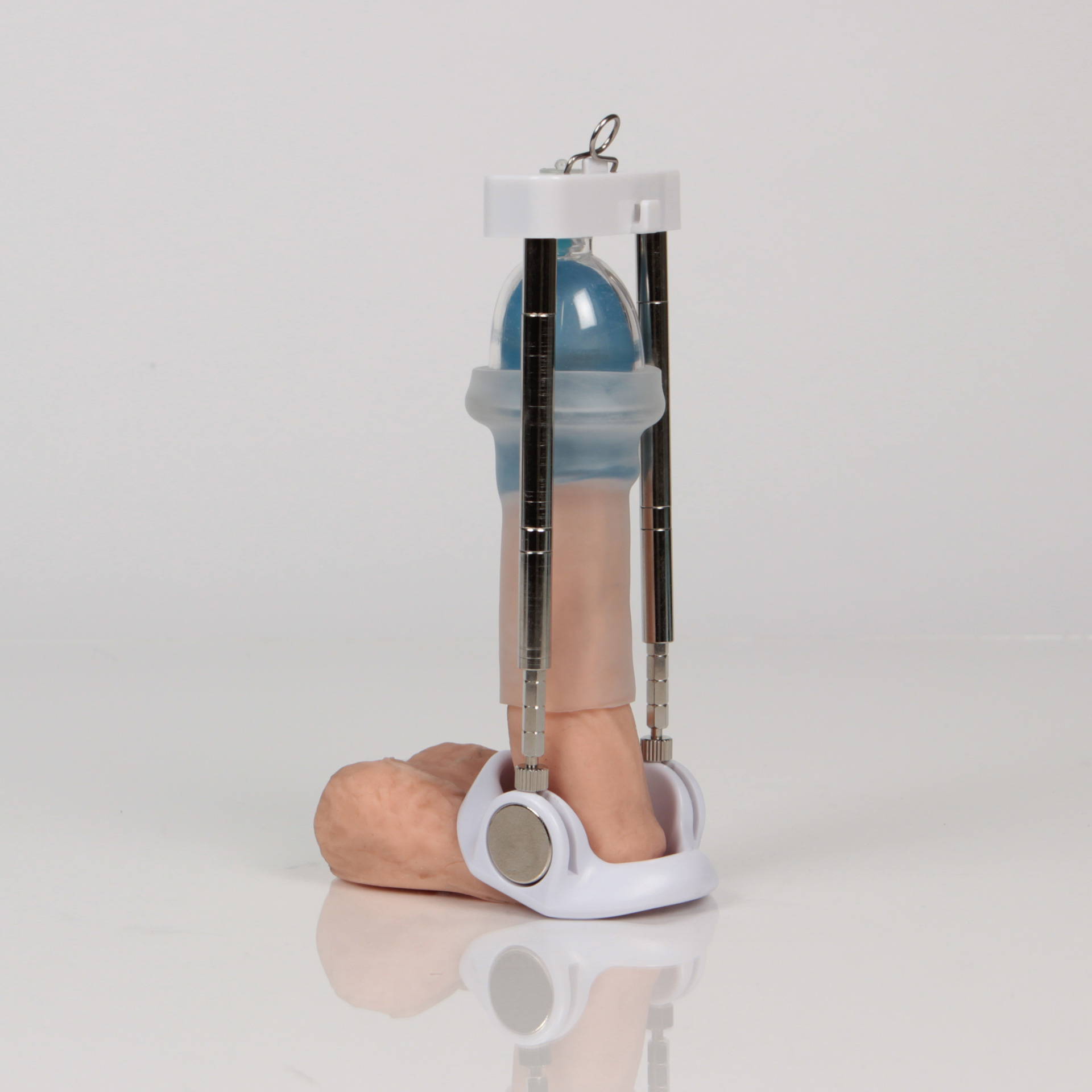 Vacuum traction stretching is well known for being the most comfortable method to use with traction stretchers. The StealthStretcher features three different size vacuum bells to attach your penis to the StealthStretcher traction base.
The combination of the SiliSleev2 and vacuum bells assure ultimate long term comfort with zero slippage.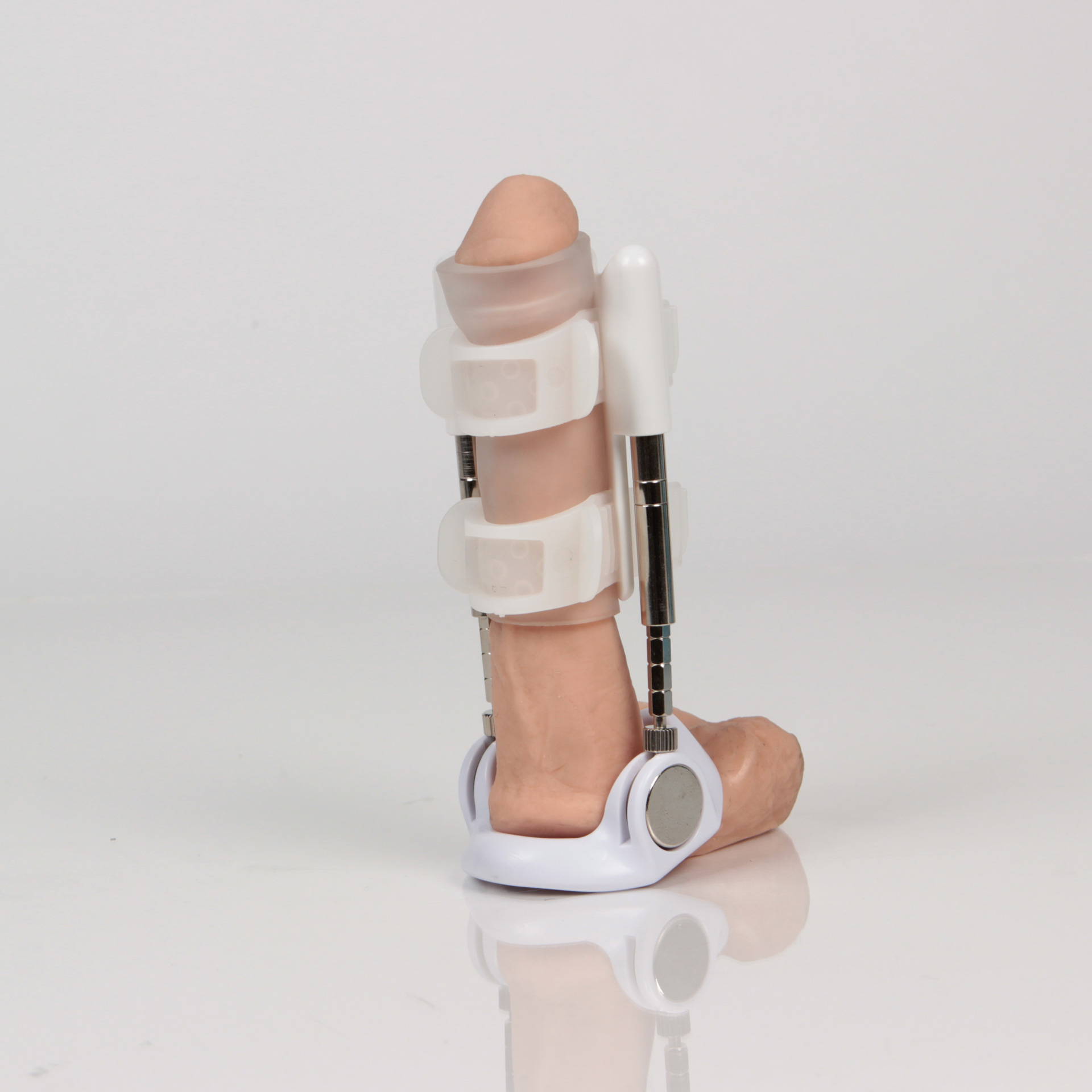 QUAD RETENTION ATTACHMENT
The StealthStretcher features a new quad retention attachment to safely strap your penis and attach to the traction base. You now have the option to use dual retention belts, dual nooses or the combination of dual retention belts and dual nooses to secure your penis without slippage.
The combination of the SiliSleev2 and retention belts provide ultimate comfort with zero slipping.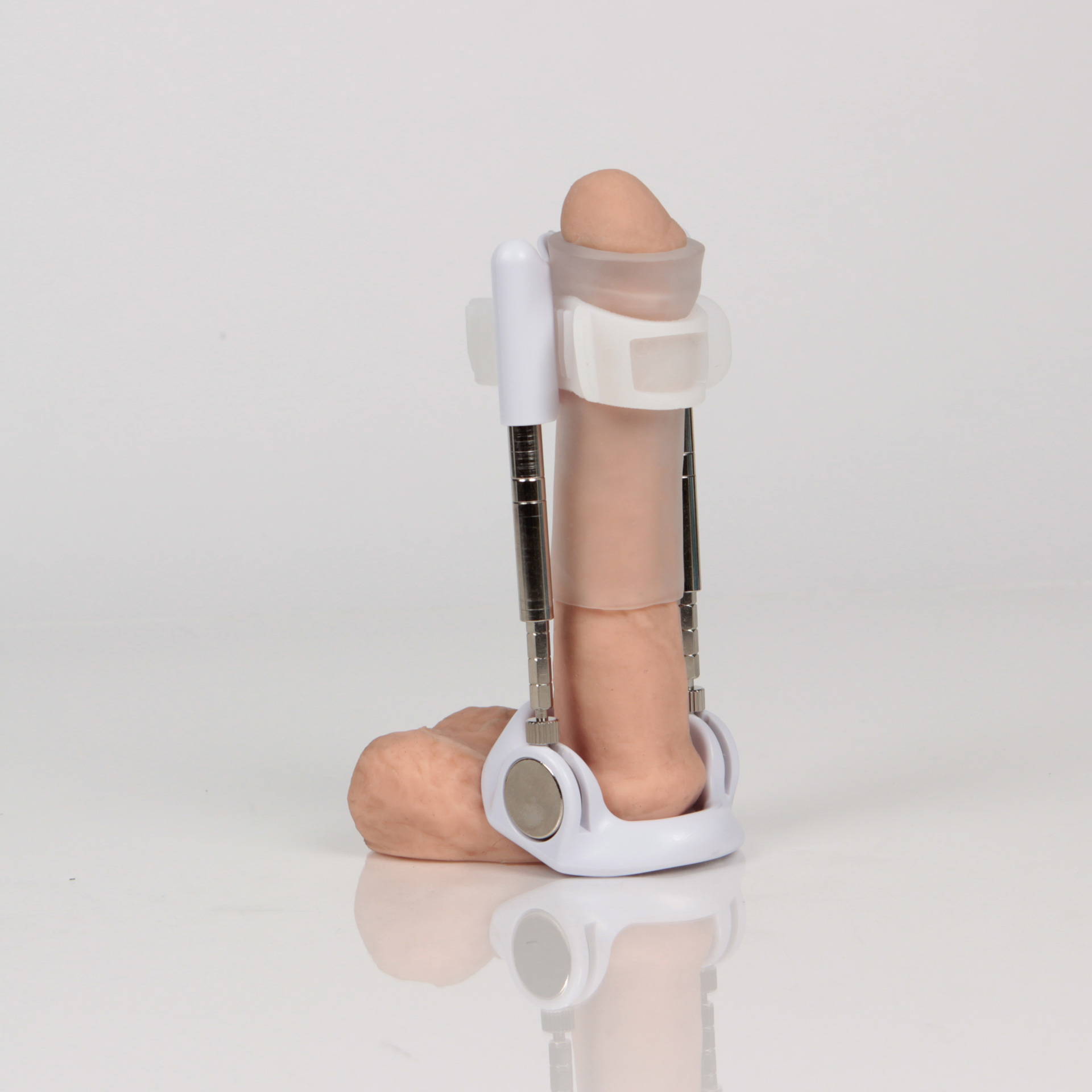 DUAL RETENTION ATTACHMENT
The StealthStretcher features a standard dual retention attachment to safely strap your penis and attach to the traction base. This is a great option for smaller penises to attach to the traction base. You have the option to use a retention belt, noose or the combination of a retention belt and noose to secure your penis without slippage.
The combination of the SiliSleev2 and retention belt provides ultimate comfort with zero slipping.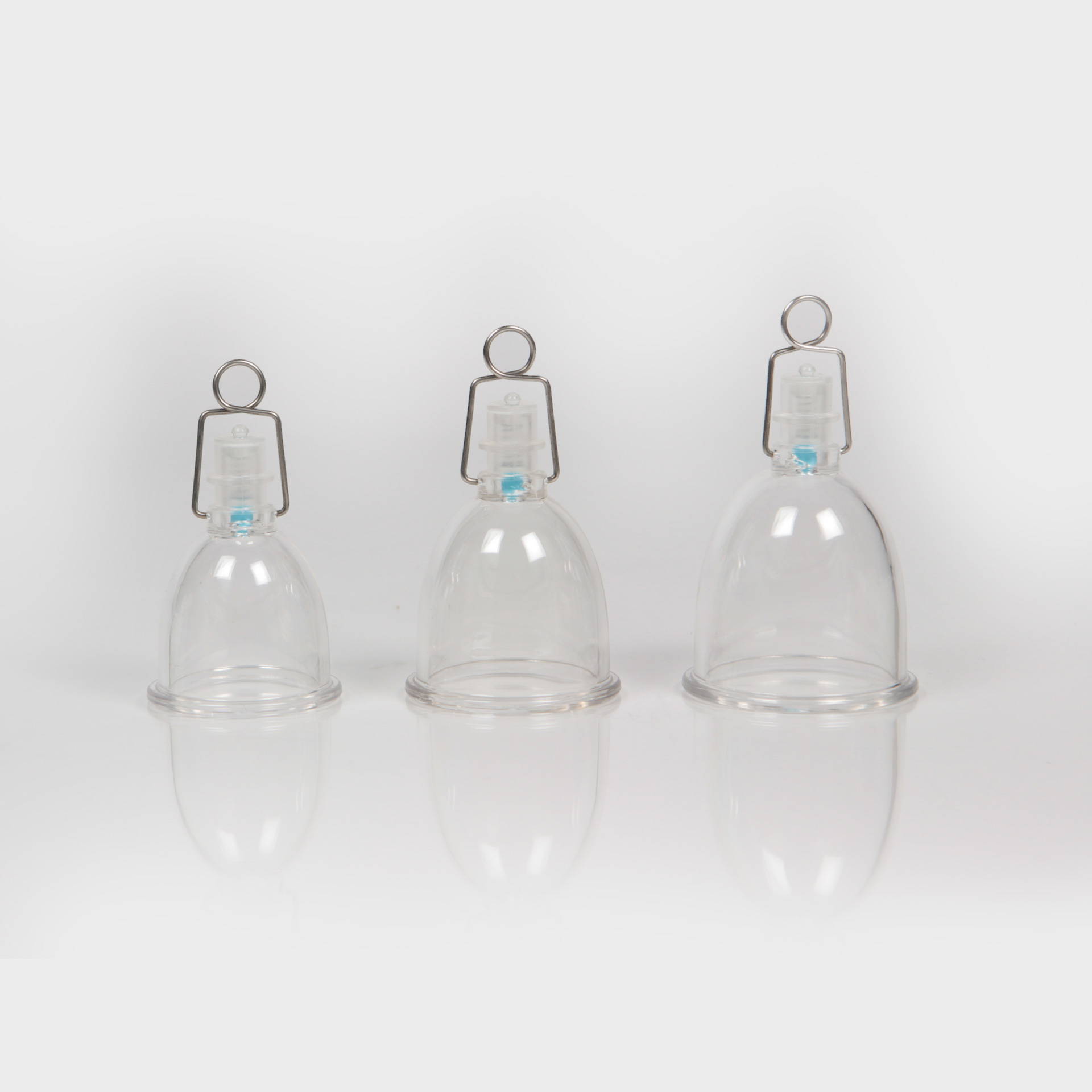 StealthStretcher includes three vacuum bells to prepare you for growth. No more fussing about which size is right or worrying about outgrowing your system.
Our transparent vacuum bells are the most stealthiest in the industry for all day outdoor use and comfort while you monitor your penis .
Usable sizes include:
1-1/4" (3.2cm) wide x 1-1/2" (3.8cm) deep
1-1/2" (3.7cm) wide x 1-3/4" (4.5cm) deep
1-5/8"(4.2cm) wide x 2" (5.0cm) deep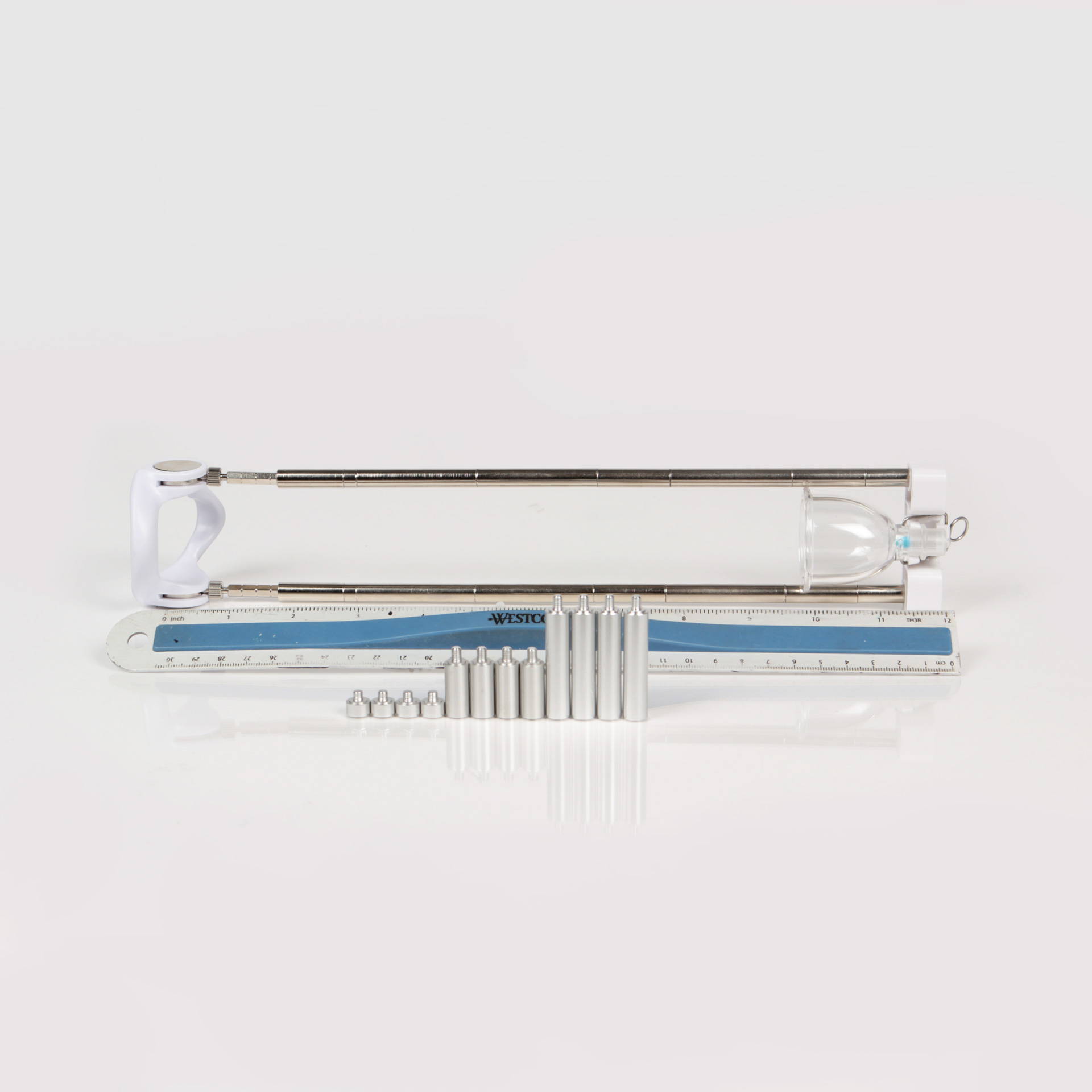 EXTENSION RODS FOR LENGTH
No more worrying about running out of extension rods as you grow.
The StealthStretcher comes complete with twenty multiple size extension rods to extend in small, medium and large increments totaling over 12" (30cm) of length.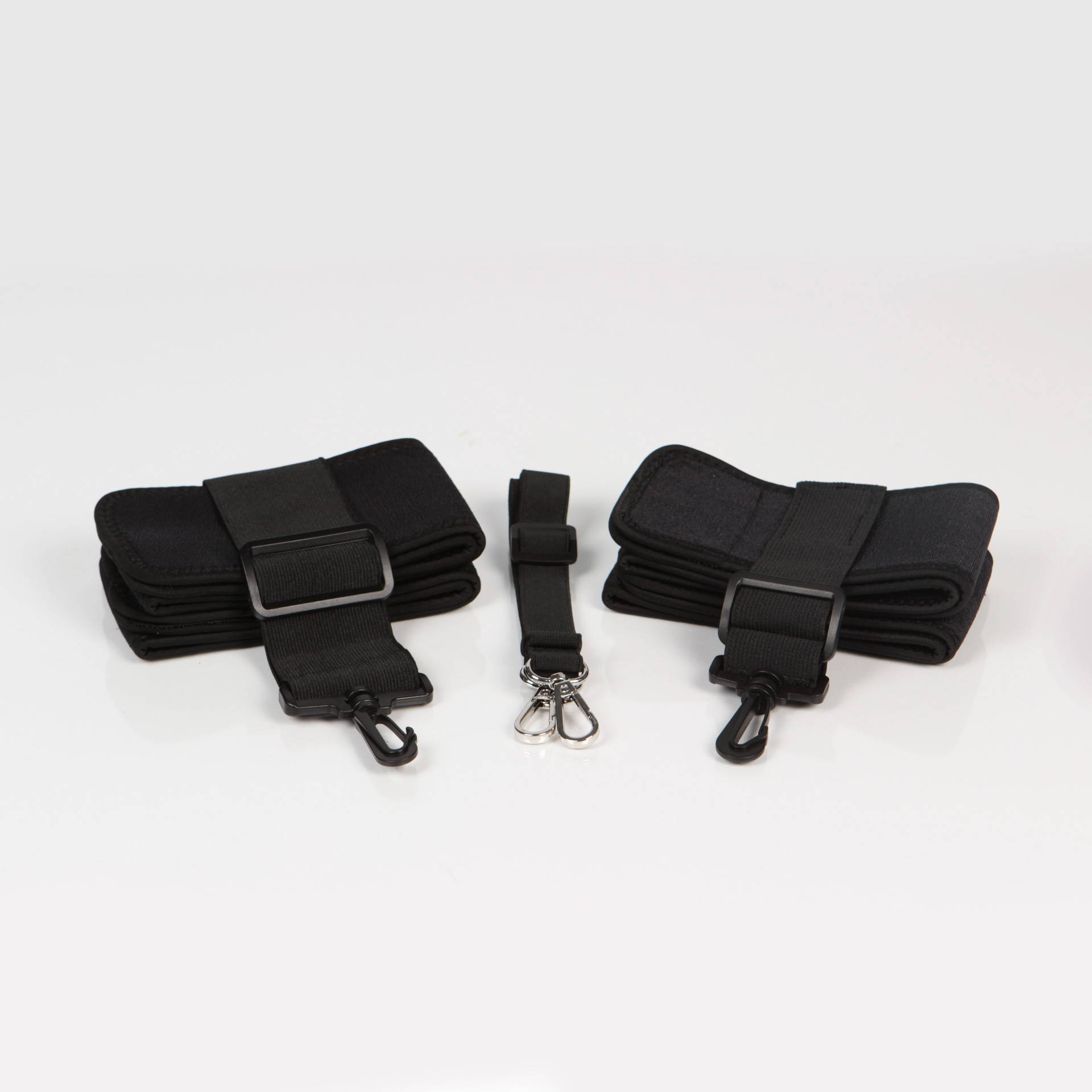 StealthStretcher includes two different size ADS belts and a SiliStrap shoulder strap for all day stealth stretching.
With the combination of these belts and the shoulder strap, you have eight stretching positions to focus on different areas of the penis shaft while in complete stealth mode.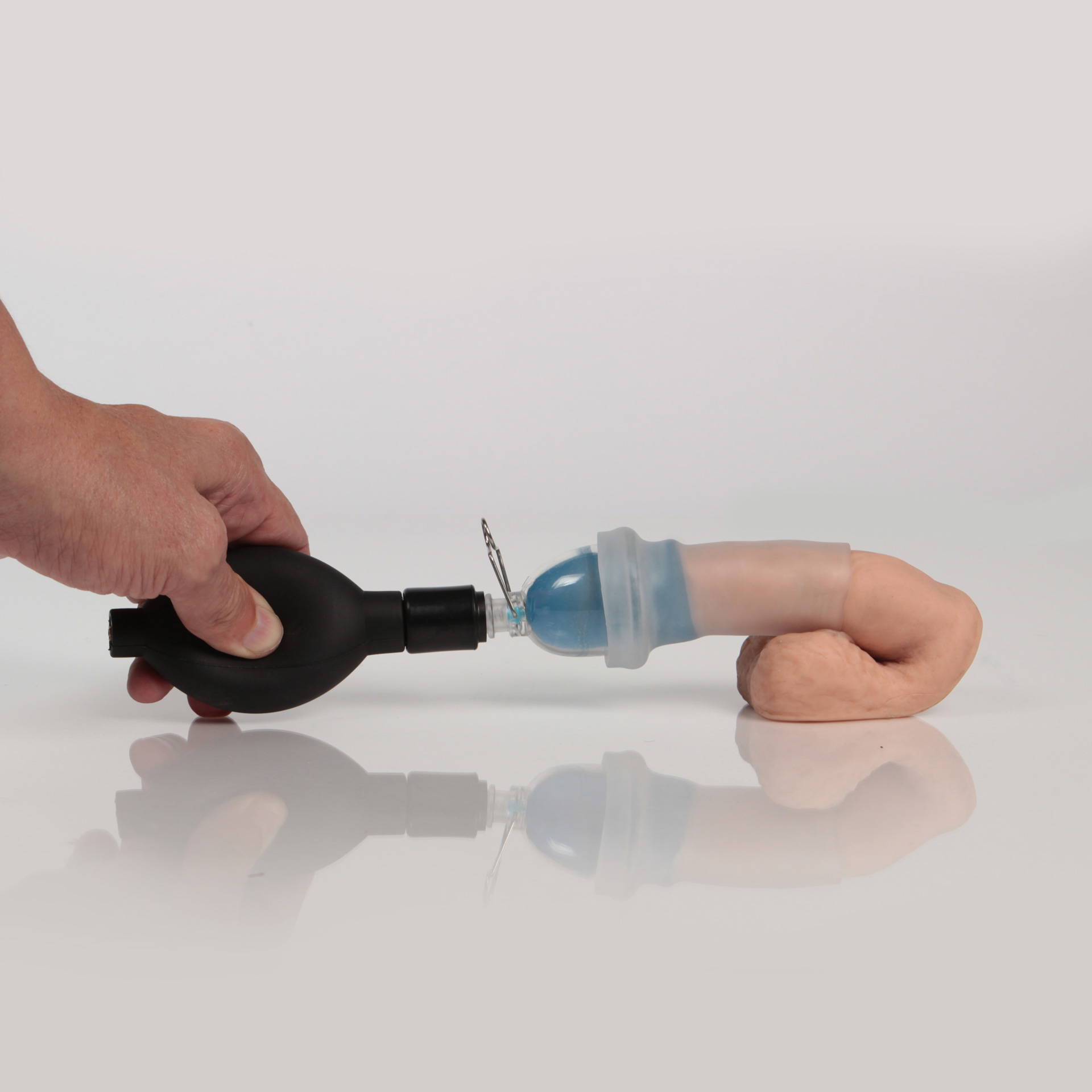 Apply a SiliCap to your penis.

Apply a SiliSleev/ DuroSleev to StealthStretcher vacuum bell of choice.

Apply StealthStretcher to penis and one pump.

Attach to traction base, ADS belt, SiliStrap or weights.
Three vacuum bells for growth
Vacuum traction stretcher attachment
Variable traction tension up to 17 lbs (7700 Grams)
Traction rods accommodate up to 12" of penis growth
Single and Dual traction belt and noose attachments
Digital SiliScale for tension monitoring
Vacuum weight attachment and arbor
Two all day stretcher belts for for stealth penis stretching
SiliStrap shoulder strap for upward stretching
Multiple SiliSleevs, DuroSleevs and SiliCap for attaching to penis
Starter weights (3.75lbs) for weight hanging
Discrete hardshell carry case
Lifetime warranty
If you are unsatisfied with your purchase, you have 90 days to return your StealthStretcher for a full refund. All original items must be included in the same condition when received.
If there is a manufacture defect, we will promptly replace your part or product at our expense, including shipping.
The StealthStretcher ships for free in a plain white box with no indication inside or outside of the packaging describing what it is or what it is used for. The StealthStretcher has no branding on it as well. The shipping label ship from address is PPC Corp.
Your Credit Card or Pay-Pal account will show that you made a purchase of a "LM-1001" from "PPC".
USA DOMESTIC SHIPPING: The typical free shipping time in the US is 2-3 days with USPS once your order leaves our shop.
INTERNATIONAL DHL & UPS SHIPPING: The typical shipping time for DHL & UPS shipping internationally is 3 days once your order leaves our shop and can be tracked all the way to your door.
INTERNATIONAL USPS SHIPPING: If you select the cheapest USPS shipping option, the typical shipping time for USPS shipping internationally is 15 days once your order leaves our shop. Also please note with USPS, once your order leaves the USA, the tracking information can not be traced.

The StealthStretcher increases penis length by comfortably keeping a constant tension on penis ligaments and tissue to create microscopic tears to form along the shaft, this process is completely pain free.The microscopic tears will not be visible and can only be seen through magnification.
As these tears occur regularly along the course of the sessions, your body will recognize the gaps created in the penis tissue. As a form of healing, your penis will begin to repair itself by going through a process known as "mitosis" followed by "cytokenesis".
Mitosis occurs when cells within the existing penis tissue begin to divide, known as cellular division, where one cell divides into two. The penis tissue cells will divide over and over again to fill in the gaps (tears) caused by the penile tension process. Enlargement can be noticed in both length and girth (thickness).
In the simplest sense, the nucleus of a cell divides within itself then splits in two, each containing a mirror image of the original nucleus. The splitting of the two cells, once the nucleus has divided, is called cytokinesis, the final stages of cell division and tissue growth.
The cells will rapidly divide over the course of the treatment and will create new tissue for a longer and larger penis.
If you have foreskin, pull your foreskin over the glans and cut two three inch strips of the micro-porous tape in your kit. Tape an X over the head of your penis to keep your foreskin pulled forward (pinched).
HOW TO USE THE STEALTHSTRETCHER
The set up is fairly simple, simply find the vacuum bell that fits you the tightest to minimize fluid retention.
Attach the SiliSleev or DuroSleev to the SiliStretcher vacuum bell and to your penis.
Attach the small ball pump to the the vacuum bell, pump one time to secure the penis.
Attach the vacuum bell to the traction extender, ADS belt or weights and begin your session.
MAXIMIZE YOUR SESSIONS
For the most effective sessions with the StealthStretcher and DuroSleevs, follow this guide below.
Make sure your entire penis shaft is shaved clean of hairsHairs will create loss of suction with DuroSleevs and the SiliStretcher2.
Make sure your penis is clean, dry and free of oilIf you put lotion on your skin, this will cause loss of grip . Your skin also has a natural oil that can cause loss of grip. Sweat causes loss of grip. We strongly recommend cleaning and drying your penis then using MOSGrip to remove all the natural oils of your skin and create a tack for maximum grip. MOSGrip also helps eliminate sweat under the DuroSleev.
Make sure your DuroSleevs are clean, dried and powdered with MOSGrip. Dirty, oily DuroSleevs with pubic hairs in them will cause loss of suction/vacuum/grip. You want to clean your DuroSleevs before each use.
Make sure you do not have a pin hole in your DuroSleev from excessive usePinholes are easiest to find if you stretch the DuroSleev in front of a bright light. Pin holes are like a slow leak in a tire.
To increase the life of your DuroSleev, remove the DuroSleev from the SIliStretcher2 when not in use. This will prevent them from stretching out over time.
HOW TO USE THE STEALTHSTRETCHER
UNBOXING THE STEALTHSTRETCHER
Email: SUPPORT@MATTERSOFSIZE.COM