HydroXtreme7 Wide Boy - For Unbeatable Pressure and Performance
For those of you with a girth over 6.5 inches and a length of 7 inches or less, this all-new Bathmate option gives you the absolute best results. The latest, most powerful hydropump option, the HydroXtreme7 Wide Boy is all about maximizing your penis pump results if you are especially girthy, increasing length, girth, erection hardness and lasting power.
Coming from our ultra-powerful HydroXtreme series, this pump is all about convenience and results. Once you've filled your pump with warm water and attached to your body, there's no need to pump - just squeeze the attached handball unit and you'll start building up pressure in the pump. This makes it easy to maximize the pressure in your HydroXtreme7 Wide Boy, giving you unmatched gains.
The HydroXtreme7 Wide Boy is the second in our Wide Boy range, both designed to support particularly girthy users. With this pump letting you easily maximize pressure, it's a great choice for experienced users, though it's also suitable for first time penis pump exercisers - we recommend starting off without using the handball.

HYDROXTREME - THE ULTIMATE HYDROPUMP
Bathmate is the world's number one brand for penis pumps, with over 1 million units sold worldwide. Our pumps create real, lasting results for users - take a look at our Bathmate Reviews section for a look at some of these results!
Our HydroXtreme series is all about high-powered performance, giving our users completely unmatched results. As our most advanced product, we're including a completely free Bathmate accessories kit when you buy any HydroXtreme pump - take a look below for details.

HYDROXTREME ACCESSORIES INCLUDED
Handball Pump
Hose Attachment
Comfort Insert Pad
Shower Strap
Measuring Gauge
Bathmate Clean
Cleaning Sponge
Wash Towel
Security LockCarry Case

How do you know if you are getting a genuine Bathmate?

The first flag is that Bathmate no longer offers the "X" series, Goliath or Hercules.
If the Bathmate pump you are purchasing is not a HYDRO series, it is most likely a counterfeit. This is the main reason why Bathmate changed the series of their pumps to Hydro, HydroMax and HydroXtreme.

The second flag will be where it is shipping from.
All authentic Bathmates ship directly from Bathmate / UM Products in the UK.
The third flag will be the email confirmation.
When you place an order for an authentic Bathmate, you will receive a confirmation email directly from Bathmate / UM Products.
HYDROXTREME ACCESSORIES PACK
HydroXtreme is the most advanced penis pump that we offer, so (for a limited time only), when you buy a hydropump from this range, we'll include the following, totally free: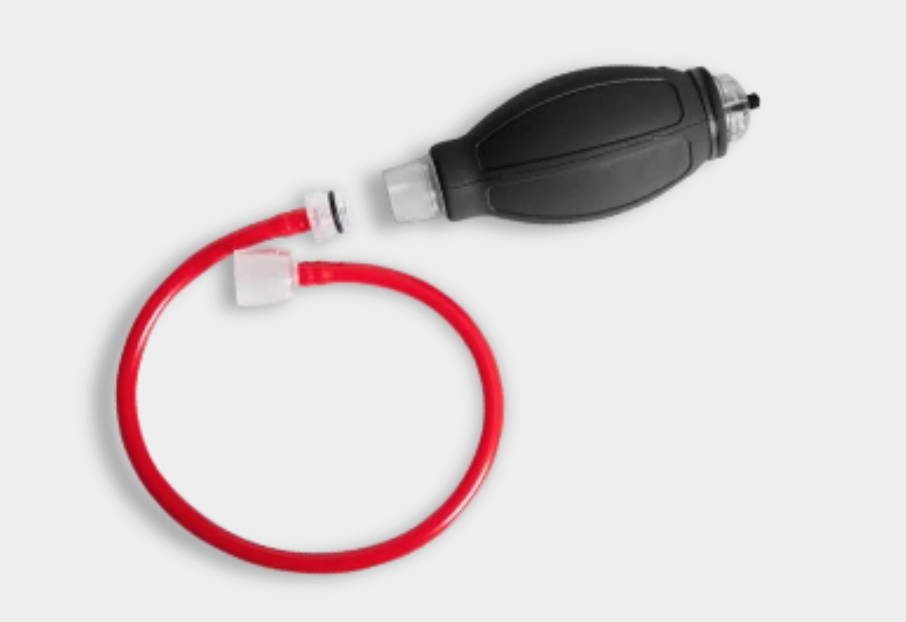 NEW ADVANCED HANDBALL PUMP
Bathmate HydroXtreme introduces an all-new way to control the pressure in your hydropump. Traditionally, you'd have to compress the pump to your body to create pressure, which can be uncomfortable or difficult for some.
With the included handball pump (attached to the pump valve or via a flexible tube), Bathmate HydroXtreme lets you control pressure just by squeezing the handball pump, letting you easily get up to maximum pressure.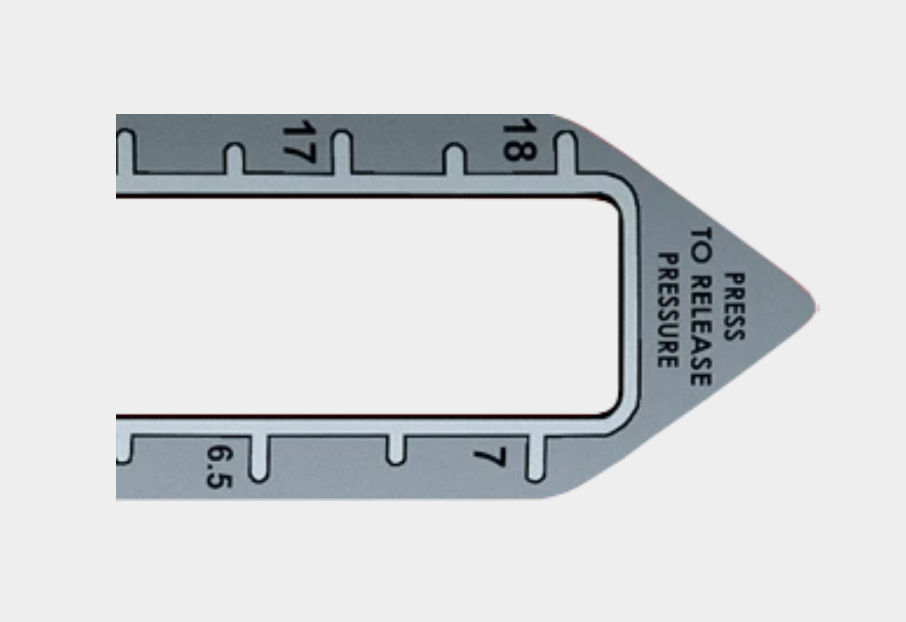 Courtesy of the attached handball unit, Bathmate HydroXtreme lets users easily adjust the pressure within their pump. Like all of our hydropumps, the HydroXtreme is designed to prevent over-pressurizing, completely cutting out any risk of injury.
Users can easily achieve the maximum level of pressure legally considered safe, creating completely unmatched gains for length, girth, erectile quality, and self-fulfillment.

ADVANCED HYDROPUMP DESIGN
The Bathmate HydroXtreme series incorporates a range of refinements designed to deliver extreme, reliable performance. With the included comfort pad, users can form a tighter seal and easily enter the hydropump, while the sturdy design of the pump ensures that you'll get great performance for years to come.
With an effective, redesigned valve, the HydroXtreme is easier than ever to use - you can now fill up the pump one-handed (while the included shower strap lets you go hands-free), adding an extra layer of convenience.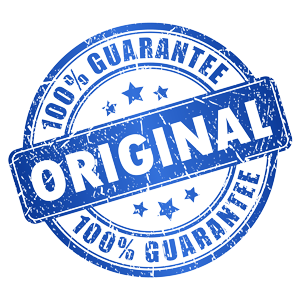 AUTHORIZED BATHMATE RETAILER
Don't fall for cheap counterfeit Bathmates on the internet. You only get one penis and taking a chance buying a counterfeit Bathmate product can lead to you permanently damaging your penis due to faulty valves and unregulated gator pressures.

For over ten years, Matters of Size (ShopMOS) has been an authorized Bathmate distributor. Your Bathmate pump ships directly from Bathmate in the UK and comes with the full Bathmate warranty. Your order confirmation email will come directly from Bathmate to assure that your purchase is authentic and fully supported.
DO HYDROMAX PUMPS REALLY WORK?
Absolutely. Based on the past ten years, we have seen hundreds if not thousands of our registered forum members report gains with Bathmate pumps. Most forum members started seeing penis gains in under one month with a significant increase in penis girth, length, erection, and quality.

IS THE HYDROMAX PENIS PUMP SAFE TO USE?
Yes. Bathmate designed their hydro-pumps with a gator and valve system that controls the amount Of vacuum pressure pulled in the pump. These are excellent pumps for noobies as well as veteran pumpers that want to maximize penis pumping sessions without going overboard.

HOW LONG SHOULD MY PUMPING SESSIONS LAST?
For the best possible results, Bathmate recommend using your hydropump for 5 minutes at a time, with 3 sessions (for a total of 15 minutes use) creating unbeatable gains.
DO I HAVE TO USE HYDROMAX IN WATER?
Bathmates are primarily designed for warm water use to help loosen tissue and maximize gains. However, they also can be used without water. We recommend cutting down pubic hair and using a little water-soluble lube to help create a seal.

WHY IS HYDROMAX BETTER THAN OTHER PUMPS?
By using water instead of air, hydro-pumping adds an extra level of convenience, power, safety, and comfort. Hydromax makes pumping easy by eliminating external hand-pumps and tubes to create a vacuum. Even though Bathmate offers hydro-pump packages with handball pumps, they are not required. This is why Bathmate is the world's most popular brand for penis pumps.
CAN I RETURN A BATHMATE PENIS PUMP?
Absolutely. Once you buy a hydro-pump from our store, you'll have 60-days to see to test drive it. If you are not completely satisfied, you can return your Bathmate pump for a no-questions-asked refund. Bathmate hygienically disposes of all returned penis-pumps.
IS THE BATHMATE PACKAGING DISCREET?
All Bathmate products ship in a plain white box with no indication about what's inside. The return address on the shipping label will say "DX Products." Your credit card statement and invoicing will say "Exercise Equipment" from "DX Products."
HOW LONG WILL IT TAKE FOR MY PENIS PUMP TO ARRIVE?
Bathmate has distribution hubs in multiple locations and ships with DHL Express. All orders take 2-3 business days to arrive at your doorstep. We recommend including your phone number so the shipping company can contact you if needed.
DOES THE BATHMATE COME WITH A WARRANTY?
When you buy your Bathmate through ShopMOS, you'll get a five-year warranty for your hydro-pump, keeping you safe against any malfunction. Make sure you register your hydro-pump with Bathmate to enforce your warranty.
When you're deciding on a penis pump, it is really important that you choose one that fits your size. If your penis is too large or too small for your pump, the vacuum of the pump will not be able to achieve the maximum vacuum pressure, making your workout less effective and leaving you missing out on the real gains achievable through your penis pumping routine.
Bathmate makes hydro-pumps for any size penis. Check out the measuring chart below.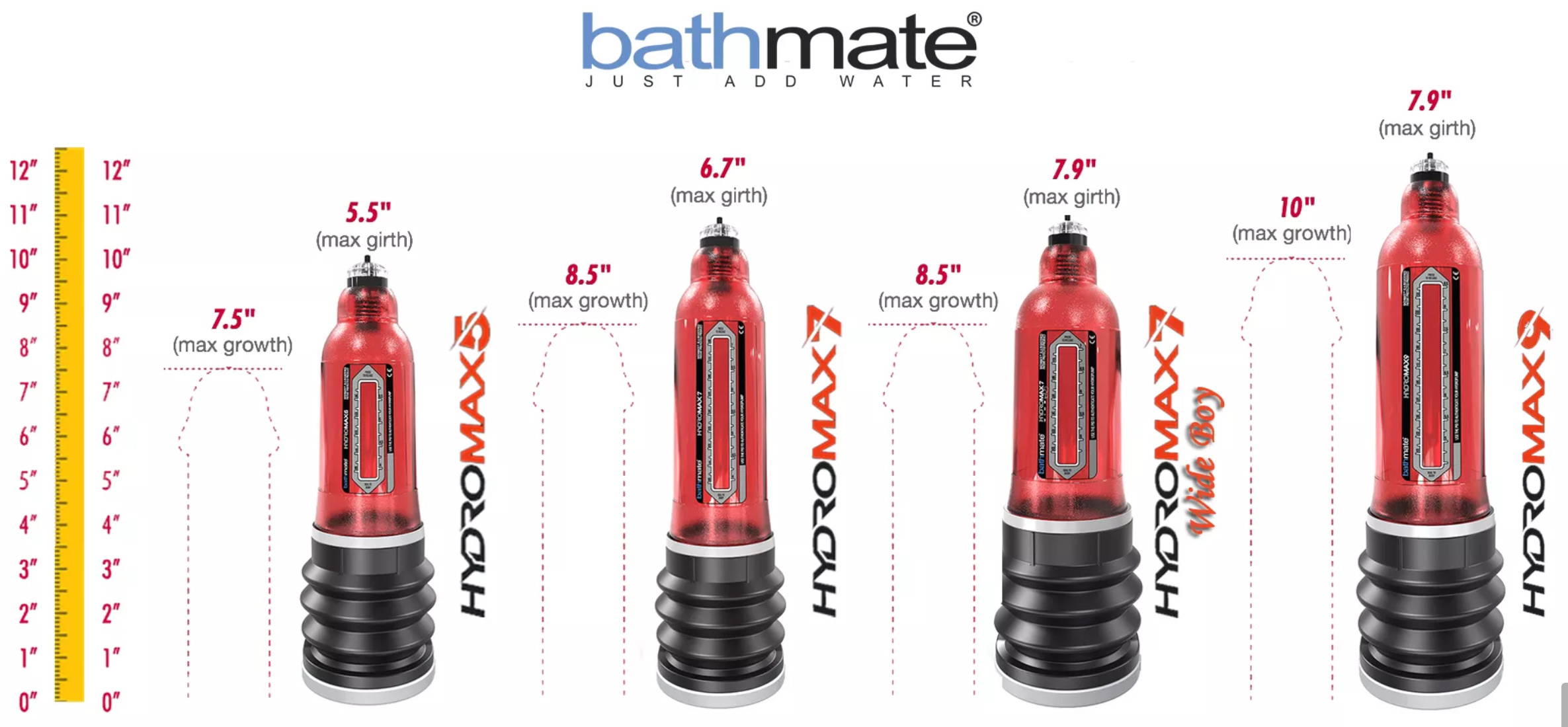 UP TO FIVE INCHES ERECT PENIS LENGTH

If your penis measures up to 5 inches when erect, hydro pumps result in dramatic gains, adding extra girth, length, and erection hardness, all leading to a significant improvement in personal self-confidence. With 60-day return policies in place, you will see the considerable benefits of Bathmate penis pumps.
Bathmate currently offers two hydro-pump options for users presently measuring up to 5 inches:
Hydromax5: The perfect starting pump. Hydromax5 uses a water-based system to create real, lasting results. With a 92% customer satisfaction rate, expect outstanding developments in penis size!
HydroXtreme5: If you are looking for a more potent option, HydroXtreme5 adds a hand-ball pump unit, letting you maximize penis pump vacuum pressure for unmatched gains.

FIVE TO SEVEN INCHES ERECT LENGTH
The average penis size around the world measures between 5 and 7 inches erect. Bathmate penis-pumps will help you stand out from the crowd mentally and, most importantly, physically. With your regular routines, you'll build up real penis gains for girth, length, erection hardness, and lasting power, while improving your self-esteem and sexual confidence. Select your perfect match from Bathmates five hydro-pump options:
Hydro7: Formally known as the Hercules, the Bathmate Hydro7 uses a simple, effective system to build substantial penis size gains.
Hydromax7: This is Bathmates' most popular penis pump that delivers effective, lasting gains, with a 92% satisfaction rate. If you have a large penis girth exceeding 6.5-inches in circumference, Bathmates
Hydromax7 Wide Boy is a perfect choice.
HydroXtreme7: With a hand-ball pump included, it's even easier to unlock the maximum Bathmate power and drastically increase gains with HydroXtreme7. If your erect girth circumference measures over 6.5-inches, Bathmates HydroXtreme7 Wide Boy is the hydro-pump you want!

SEVEN TO NINE INCHES ERECT LENGTH
If you've outgrown one of Bathmates' other hydro-pumps or are naturally large, Bathmate has a collection of large-scale penis pumps to support erect penis sizes measuring between 7 and 9-inches fully erect. With frequent use, you'll get stronger, longer-lasting erections, while building up permanent gains for length and girth, giving you a significant increase of confidence.
Bathmate currently offers two models of hydro-pumps in this size range:
Hydromax9: The Hydromax series is the world's most popular hydro penis pump for a reason. With a 92% success rate, users most often chose this pump.
HydroXtreme9: Same great pumping benefits as the Hydromax9 but Bathmate includes a hand-ball pump for maximizing pump pressure to achieve more significant results.

OVER NINE INCHES ERECT LENGTH
Dubbed as one of the largest hydro penis-pumps in the world, this Hydromax replaces the original Bathmate Goliath pump.
The HydroXtreme11 is designed for huge users, helping to improve their sex life by pumping more blood in the penis. At this size, Bathmates' pump works slightly different than the other HydroXtreme series hydro-pumps. Some significant advantages: help create harder, long-lasting erections and effective therapy for erectile dysfunction.
Note: The estimation is, that less than 1% of people have an erect penis size over 9-inches long - this is the minimum length required to achieve the greatest results from the HydroXtreme11.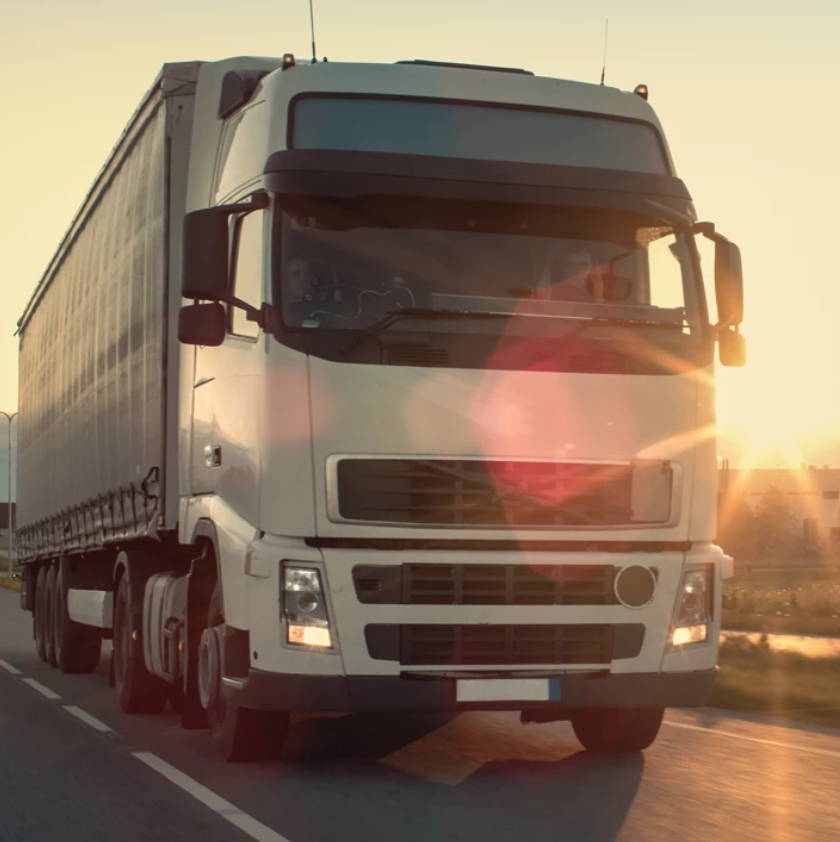 Your Bathmate ships for free directly from Bathmate in the UK. Bathmate uses DHL for shipping worldwide and typical shipping time to anywhere in the world is 2-3 business days.
The Bathmate ships in a plain white with no indication outside of the package describing what it is or what it is used for. The shipping label is discreet as well and will not indicate what your product is or where it came from..
Your Credit Card or Pay-Pal account will contain no description regarding Bathmate or anything suspect .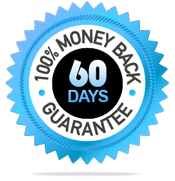 60 DAY MONEY-BACK GUARANTEE, NO QUESTIONS!
If you are new to hydro-pumping, sometimes it can be difficult to believe everything you hear. Bathmate fully understands this and lets you try their pumps for 60 days to see the results for yourself.
If you are not completely satisfied with how your Bathmate hydro-pump performs, you can simply return it with no quibbles and get your full money back.
Most users typically start seeing great results after a month of regular use; this will give you more than enough time to test drive your penis pump and become another satisfied customer.

HOW TO USE THE HYDROXTREME SERIES
HOW TO USE THE CUSHION RINGS
How to replace the Hydroxtreme valve cap
SIMILAR PRODUCTS CUSTOMERS PURCHASED